Effective and affordable websites in Ireland
We create unique business tools that produce results.
We provide website design and development
Online & offline marketing services
Search Engine Optimisation and content writing
Affordable Websites at €350 euro finished
for Small to Medium Sized Enterprises
Page one Guarantee on hosted Websites.
Domain name registration and hosting in Ireland.
free Hosting for first Year
Pinguis Website Design, hand-crafted Website Solutions with the most Powerful Technologies.
We are Search Engine Experts for Business in Ireland with Results Guaranteed.
We are technical trained and hold a degree in Accelerated Information Technology. We design website for clients needs. Phone us and get a website in three days.
Website Design in Kerry, Cork & Ireland. Result focused Website Design in Ireland
We create Websites for page one only. And all our websites are page one with client selected Keywords and Search Terms we are Search Engine Experts based in Kerry.
We work hard to promote our clients websites, basically so they inform other business owners of our care and further expand and develop our business. Its a two way street, we are results focused website designers. We get the results, allowing you to focus on your product or service.
Responsive Website Design
Website Design Ireland's websites adapt to the devices, offering large improvements to mobile readability & usability. A must for Google Search.
Professional Personal Support
Irish Website Design & hosting provides phone and email support you can rely on. straight talking advice.
Search Engine Optimisation SEO Expert
Our white-hat SEO techniques will help your website rank well with search engines.
Easily Upgradeable Packages
If your business is growing and you would like to sell products online in the future, your Content Managment System can be upgraded.
 You can get a free Website at free startup business website. We still guarantee a placing with search engines. You can include all your business information, a good write up and images of your business and multiple pages. As much storage as you need. It a running start to any Irish Startup Business.
Pinguis Website Design have designed both my website we are result 3 in Ireland. And rated number 1 in Kerry, Cork and Limerick for Percolation Testing.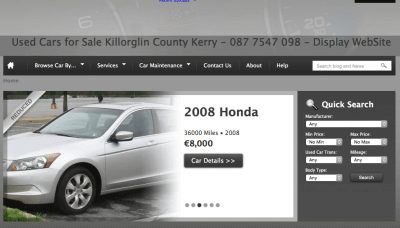 Make Sure you website designer has the following skills
Responsive Website Design. This is the term that will be around forever, basically it means a website that reacts to how it's being viewed – whether on a phone, tablet, desktop or computer screen. It places flexible elements on the page i.e. a block of text on desktop across the screen, will be viewed down the screen on a mobile device. A mobile-friendly website is no longer an optional service.
On Site and Off Site Search Engine Optimisation. This is no longer a service that can be separated from web design. Your website designer should have a basic understanding of the website structure and coding factors that influence your visibility on search engines.
Custom Skills. Integrating design elements is essential, if you want to adapt your website to make your back-end eCommerce function in a way that saves you time, your design company should be able to provide it.
Buy and Sell Products, Services, Tickets and Books, anything you wish Online with eCommerce Technology.
And our dedication to hard work and Clients personal experience.
We design your trades website so you get online contact's from customers looking for men with trades or Quotes from Irish Tradesmen and Builders. Tradesmen and Builders in Ireland. Top Rated Tradesmen Websites Design. Plastering, Electrician Website, Wall Chasing to Ground Work Websites to Machinery, Power Tools and Dog Grooming to Online Sales and Car Sales Sites in Ireland.
Contact Pinguis Website Design on 087 7547-098 for your trades Website.